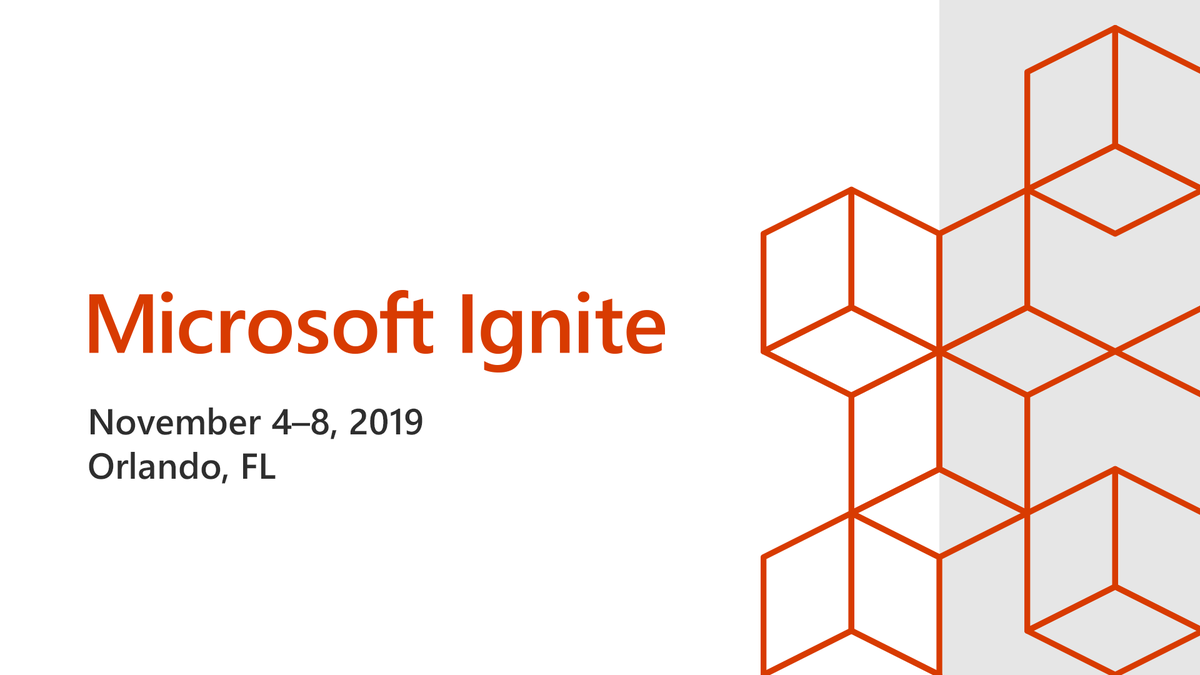 Microsoft Ignite has finally arrived! After months of build-up, the week is finally here… and what a week it's going to be! I'm planning on posting throughout the week on social media. I'll also be doing my best to post regular updates on here covering my thoughts, and the key things I pick up from the sessions I attend. As a pre-cursor , I thought I'd take 30 minutes to provide a handful of the sessions (and things!) I'm most looking forward to…
Session 1: Microsoft Cybersecurity Summit
The Security Summit is one of this year's pre-day workshops (PRE28). Unsurprisingly for regular visitors of this blog, this is right up my street. The agenda took my fancy from the outset, more so having received the full breakdown:
08:00-09:00: Pre-Day Workshop Breakfast
09:00-10:00: Opening Keynote
10:00-12:00: Cybersecurity Industry Talks
12:00-13:00: Pre-Day Workshop Lunch
13:00-14:45: Afternoon Breakout Sessions
15:00-18:00: Afternoon Breakout Sessions
18:30-21:00: Cybersecurity Summit Dinner
For the first afternoon sessions, I've elected for one on learnings / approaches from Microsoft's Cyber Defense Operations Center, and another on the removal of passwords. For the second part, I've chosen a hands-on session: "Into the Breach: A Microsoft Cyber Defence Experience". I'm hoping to learn a huge amount from these sessions, in addition to putting some faces to the names of many of the people I interact with on Twitter (and some more, no doubt!).
I particularly like the "conference" nature of this pre-day. Nice and varied with a good mix of context, opinion, and technical content. There are also some fantastic speakers lined up. I'm confident there will be more to follow on this session…
Session 2: Microsoft's Roadmap for Security, Compliance, and Identity
Perhaps three of the most used words on this blog, and the name given to the Technical keynote for Security. Who'd have thought?! There's very little background detail on the Ignite session page (TK03), but I have high expectations! The likelihood is that this session will provide context to the various security announcements that will take place during the rest of Microsoft Ignite. It will also play a huge part in setting the focus areas I take forward when it comes to security over the next 12 months or so.
Much like the Security Pre-Day workshop, my attendance at this session shouldn't come as much of a surprise 🙂 As I've alluded to previously on this blog, Security has been a real area of interest for me throughout my IT career. It's also representative of many of the concerns that organisations have when it comes to adoption (or lack of!) of Microsoft Cloud. Microsoft have made huge strides in this area over the last couple of years. I see no sign of that letting up, and I'm hugely excited to see and hear about what Microsoft has for 2020 and beyond.
Session 3: Modern Management
This session is two-fold for me (BRK008). For one, I've always followed the work of Brad Anderson, but I've never had the opportunity of hearing him speak "live" (as it were!)… cue awkward fanboy moment! 😉 I also have a genuine interest in device management. My colleague Colin Macandrew and I delivered a session on the concept of Modern Management at Future Decoded just a few weeks ago.
For me, there's an intrinsic link between legitimate "modern" management, and data / organisational security. The way that organisations can now leverage solutions like Intune to manage devices irrespective of type or location is truly incredible. Certainly in contrast to options available just a few years ago. Coupled with increasingly tight integration across the identity and data security stack, Modern Management of devices is every bit as important as anything else you might be focussed on when it comes to infrastructure.
When you layer other advantages; mobility, device freedom, and end user perception, a modern management strategy can be game changing. I'm really looking forward to hearing the Microsoft story on Modern Management. I'm also hopeful there will be a nod (or two, or three!) to some new capabilities coming to M365 soon. Depending on the content in this session I sense I might be making some changes to my schedule for the rest of the week!
Session 4: Investigate and respond to events with Azure Sentinel
This session (WRK033 is particularly close to my heart. One of my first posts on this site related to the (preview) launch of Sentinel. It's since come of age, exited preview, and is the subject of a bunch of sessions at this years Microsoft Ignite. This is one of the earlier sessions of the week.
From a personal perspective, I'm keen to hear Microsoft talk about the product. Much of my opinion and commentary has been based on personal interpretation. Listening to the product team discuss the approach they expect people to take when it comes to threat investigation will be really insightful.
I'm hopeful the session will touch on some of what's coming. Alert response through automation in particular. I'm also looking forward to learning more about investigation using some of the in-built capability, and picking up some best practices around real-world the use of Sentinel. Again, I anticipate this session may lead to some schedule changes as the week progresses!
Session 5: Azure Active Directory: New features and Roadmap
Another key theme of this blog is Identity. I've posted on multiple occasions about the importance of Identity driven security, and no doubt will again in the future. This session (BRK2130) should inform some of those posts, setting the agenda for Azure AD through 2020.
As an organisation, we like to think we're at the forefront of the drive to secure Identity. We work closely with the product team at Microsoft, and drive an identity-first approach in all the M365 work we do.
Notwithstanding, many organisations fail to grasp the importance of "doing identity right". Part of that is a lack of awareness / knowledge, but as much a factor is perceived complexity and impact to users. Microsoft have made huge strides towards minimising this, but there is evidently still work to do. Azure AD is one of the most underrated products in the Microsoft Cloud portfolio. I'm really looking forward to taking some of the outputs from this session forward to our customers. Expect further blog posts on this topic. It's not going away… 😉
Oh, that, and I'm also super excited to hear Alex Simons speak! 😀
---
There are so many other sessions I could write about in this post. My session scheduler looks like an impending car crash, but the reality is that I plan (and intend) to get as much out of this week as I possibly can. There is so much to learn, and so much innovation happening in this space - much of which remains a mystery to those organisations who should be using it.
I'll be posting as regularly as I can this week. Expect some further blog posts, and a barrage of content from my colleagues at #TeamTransparity.
Microsoft Ignite. Bring it on! 🙂
---