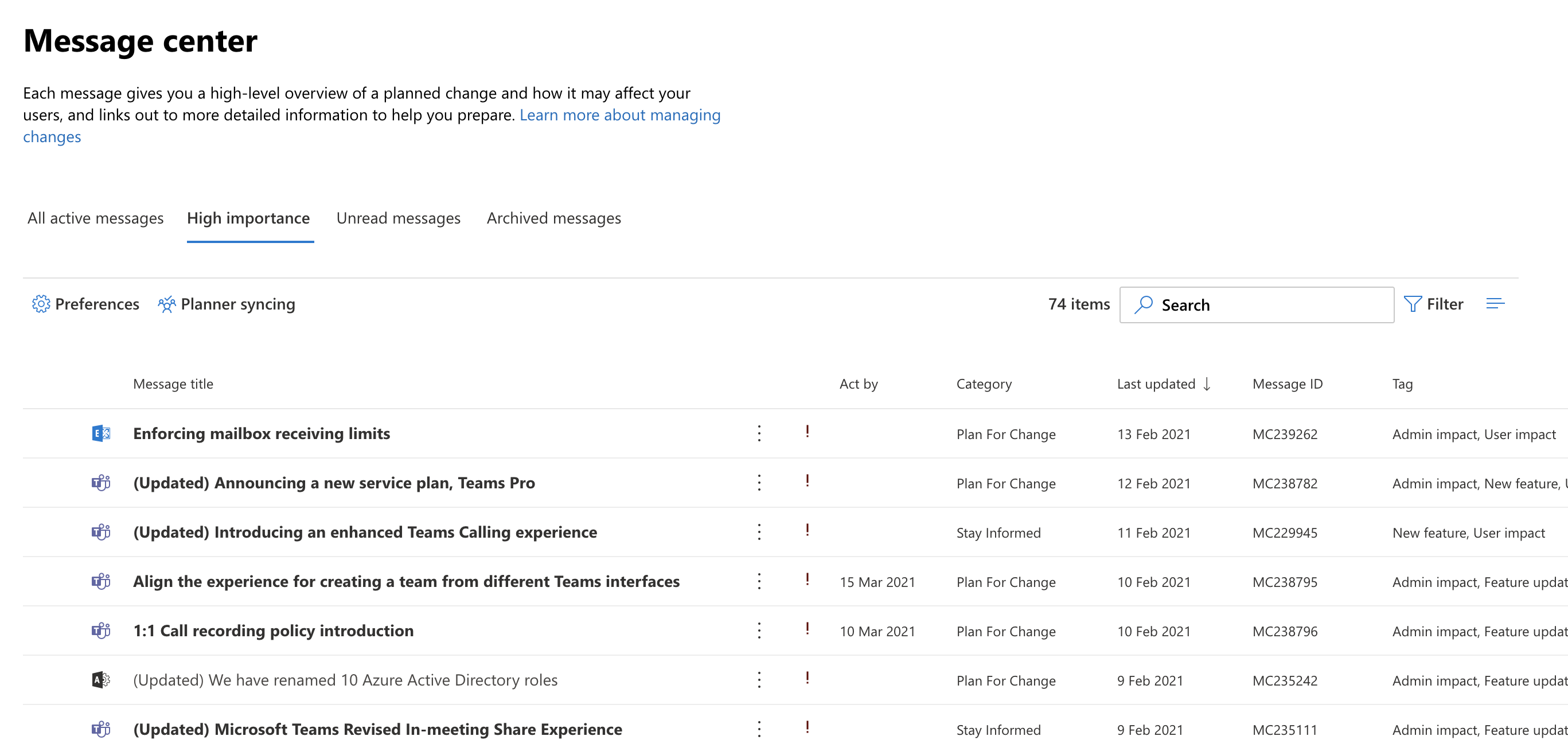 Barely a day goes by without some form of Microsoft Cloud related announcement. We've come to accept that not only does Cloud move quickly, but that staying up to date is a constant battle. I find myself trawling various blogs, message centres, and Twitter accounts almost daily… Whilst these are pretty accessible to those that want to go digging for what's new I've considered posting a periodic round up on here a few times - consolidating some of my own findings, and acting as a signpost for others looking to explore some of the key announcements.
So here goes… a round-up of a few of my key takeaways so far in February:
Microsoft 365
Microsoft Viva. What Microsoft blog worth its salt would let February pass without at least some reference to Viva, Microsoft's new Employee Experience & Engagement platform?! I say platform, more suite of services given the spread of functionality across Topics, Connections, Learning, and Insights. Each of these is probably worthy of a post in itself. For now I'd encourage you to have a read of Microsoft's "People Powered Workplace" e-book. It's fair to say there's an element of consolidation and rebranding at the heart of Viva, but I'm keen not to diminish the impact it's likely to have. Information is lacking in some areas as things stand. More to follow soon.
The all new (well, mostly new) Microsoft 365 Security Center. A frustration for many has been the plethora of portals that need to be used for the management of M365. Security alone is (was) scattered across no less than 4. No more. Defender for Endpoint, Microsoft 365 Defender, and a number of other controls previously only available in the older Office 365 Security & Compliance Center are now consolidated. Is there more to do? For sure. This is a great start though, and greatly simplifies day to day administration.
You can now sort, search, and filter your Conditional Access policies! Small as this sounds, this greatly eases CA administration in complex environments. This is public preview, so comes with some caveats… you can read more about the new experience here.
There's a new Teams Pro service plan. The interest here (for me, anyway) is in the future vs. what this means now. This doesn't introduce anything new. Teams Pro becomes the default service incorporated into M365 and O365 SKUs effective from March. I do anticipate some future changes though, specifically the (final) retirement of the Skype for Business service plan and (I suspect) some clarity around consumer vs. enterprise editions of the Teams service. Time will tell…
We've had another update to the ongoing legacy authentication story (other words may be more appropriate!). I've blogged about this previously see here, and should stress that organisations relying on legacy authentication should continue to focus their efforts on removing it from their environments. Urgently. That said, we've seen a relaxing to the timeline previously being followed by Microsoft during February. In their latest blog post the Exchange Team softened the approach being taken this year. If you are using legacy protocols, they will continue to be available. If you are not, you should anticipate their removal in line with the previous plan.
Azure
Soft Delete for Azure file shares is now enabled by default (for new Storage Accounts). I read someone's experience of using this in practice on Twitter this week… a life-saver for you if you happen to have been unlucky (or careless?!) enough to delete something you shouldn't have. Read more here.
The Azure Achitecture centre is a fantastic resource for those involved in the design and deployment of services on Azure. You can find reference architectures, sample diagrams, confirm recommended practices, and a whole lot more. This month it's had a re-skin and re-launch, go and check it out!
Cost Management is now available for Government PAYG subscriptions. Cost Management is one of my favourite features, and now available across all major subscription types (regular PAYG, EA, CSP, Sponsorship, and now Government tenant PAYG). You can cut and shut your spend across resource groups, subscriptions, resource types, and tags, set spend thresholds and alerts, benefit from Azure Advisor recommendations, and a whole lot more. If you haven't spent at least a bit of time in the Cost Management section of the Azure portal you really should… check it out.
Yet another Azure region is in the works. Enter East US 3. OK… so this may be of limited interest to my British and EU followers, but every expansion of the Azure platform is exciting, right?! More choice for multi-nationals looking for a local point of presence, another option for DR replication, and further evidence that Microsoft are here for the long haul. Standing up a new region is no mean feat. Multiple datacentres. Multiple services. A host of positions to fill to make it operationally viable. The pace Microsoft continue to move at in this space never ceases to amaze me…
More accreditations. This time in the form of extended HITRUST CSF, and a first PCI 3-D Secure (PCI 3DS) certification. A full rundown of the (copious) certification standards the Azure platform aligns to can be found on the Service Trust portal… needless to say though, the list is both ridiculous and highly impressive from the perspective of someone who looks after Security and Compliance. Concerned about data or platform security? It won't be the platform that lets you down…
Certifications
I was pleased to see a number of new Security & Compliance certifications finally launch this month: SC-200, SC-300, and SC-400. I had the huge privilege of being involved in the creation of the blueprint for two of these exams and it's great to see them go live.
All three are in beta for the foreseeable future, so those tempted to take one (or all!) will need to wait for their results… I'll include myself in that list, and will post some first thoughts in the coming weeks as I do.
---
So there we are… just a few of the many noteworthy things that have happened so far in February. If you want to discover more I'd highly recommend you keep an eye on the Azure Updates page and the Microsoft 365 Message Centre. That aside, give me a follow on Twitter where I try to highlight anything new and noteworthy as I discover it.
Happy learning, and happy reading… What's your favourite February announcement?
---